Legislation
&
Current
Issues
State
Legislation
&
Issues
Senate
Finance
Committee
on
Restoring
MI
Charitable
Giving
Tax
Credits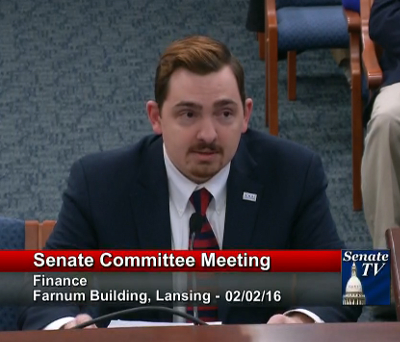 In the Michigan Senate Finance Committee Hearing on Tuesday, February 2, Terry Streetman testified on behalf of MNA, along with other representatives from the nonprofit and foundation communities, in support of a package of bills that would restore Michigan's charitable giving tax deductions that were lost in 2011. The bills were reported favorably out of committee without amendment, with recommendation that they be passed with immediate effect. The bills in the package in question are SB 461, 462, 463, and 464. You may search for them using the Michigan Legislature's Bill Search feature. MNA will provide updates on the package when they become available via this newsletter, Public Policy Action Alerts, and the MNA website.
Those wishing to review the recording of the committee hearing may do so by visiting the Committee Video Files Archive and finding the file labeled Finance-02-02-2016.mp4
Bills
we
are
tracking
Weekly Updates prepared by Dykema Gossett PLLC.
Changes
to
the
Michigan
Nonprofit
Corporation
Act
Effective January 1, 2015, Governor Snyder signed into law Senate Bills 623, 624 and 929. These three Bills amend the Michigan Nonprofit Corporation Act (the "Act") which is the law under which most Michigan nonprofit corporations operate. Some of the amendments described below will require action by management to amend bylaws or articles of incorporation, but most will not.
This article was prepared by Edward J. Castellani J.D., C.P.A., an attorney who represents trade associations, educational and charitable organizations, foundations and other nonprofit organizations.
pdf Click here to view a summary of the changes to the Nonprofit Corporation Act .
Increase
Your
Government
Overhead
Reimbursement
Governments at all levels – local, state, and federal – that hire nonprofits to deliver services are now required to reimburse nonprofits for the reasonable indirect costs (sometimes called "overhead" or "administrative" costs) they incur on behalf of governments when federal dollars are part of the funding stream. The new mandate is embedded in grantmaking rules that the federal Office of Management and Budget (OMB) put into effect at the end of 2014. In addition, the new OMB Uniform Guidance streamlines and clarifies cost allocation and other rules related to government grants and contracts, removing some areas of confusion and inconsistency while treating more of a nonprofit's expenses as direct (reimbursable) costs.
Six
action
steps
to
take
now:
Determine whether the source of some or all of your government funding is federal (rather than state or local). In many cases federal funds are granted through state, county, and city departments. If you aren't sure, ask your contract officer in government. You have a right to know. If some of your funding has federal origins, the new Office of Management and Budget Uniform Guidance (OMB UG) probably applies to you.
Check on the expiration dates of your contracts that involve federal money. The OMB UG applies to new contracts signed after December 26, 2014. The OMB UG does not require contract renewals to use the new standards for overhead if nothing substantial has been changed in the new contract. We hear from some nonprofits that their government funders are trying to characterize all new contracts as basic renewals so that the higher overhead rules don't apply.
Review the overhead rate in your government contract. If the rate is less than 10%, or if you have a fee-for-service contract based on costs that assumes less than 10% overhead, the new OMB Guidance is crucial for you to understand and act on.
Review your current overhead assumptions – under the new guidance, some items you may have assumed as part of your overhead rate will actually be treated as direct costs.
Develop your strategy now for getting better overhead rates in your new contracts: talk to other nonprofits with similar contracts and consider a joint educational approach with your funder. Talk with your auditor and enlist his or her help in making the case to the government agency. Document your discussions with your government contract officer so that even if you are pressured into a contract with less than 10% overhead, you'll have material for making the case retroactively.
Let us know this is an issue for your organization. As we work with legislators, state administrators and county officials, bringing together as many nonprofits as possible on this issue empowers all of us.
Federal
Legislation
&
Issues
H.R.
4281,
the
Charitable
Giving
Privacy
Protection
Act
MNA is supporting legislation introduced by Congressmen Keith Rothfus [PA-12] and Brian Higgins [NY-26] that will help protect nonprofits and encourage charitable giving by ensuring that nonprofits are never forced to collect social security numbers when soliciting or accepting donations. This simple, narrowly-crafted bill has been endorsed by groups like Habitat for Humanity and the National Council of Nonprofits, which represents more than 25,000 nonprofit organizations across the country. pdf One-page summary.
Treasury/IRS
withdraw
gift
substantiation
proposed
regulation
The Treasury Department and IRS announced that they are withdrawing the proposed gift substantiation regulation. The proposed regulations would have permitted, but not required, charitable nonprofits to file a new, separate information return with the IRS (in addition to the Form 990) by February 28 every year to substantiate contributions of more than $250 in value. A new informational tax return ("Donee Report") would have required the nonprofit using it to collect the donor's name, address, and Social Security number (SSNs) or other taxpayer identification number and also provide a copy to each donor.
Treasury and the IRS received 37,977 comments during the rulemaking period that ended on December 16, virtually all of them hostile to the proposal. This network, working with other national groups, submitted comments on behalf of the nonprofit community making the case that the collection of SSNs would "expose the public to increased risk from identity theft, impose significant costs and burdens on nonprofit organizations, and create public confusion and disincentives for donors to support the work of nonprofits."
President
Obama
Signs
Tax
Bill
Making
Charitable
Giving
Incentives
Permanent
On Friday, December 18, 2015, President Obama signed the Protecting Americans from Tax Hikes Act of 2015 or PATH Act (HR 2029) making permanent three charitable giving incentives:
• The food donation tax deduction provision raises the cap on giving and allows small businesses donating wholesome excess food to a qualified nonprofit to take the same enhanced tax deduction that C corporations have been permitted to take since 1976. The provision also raises the ceiling for business donations from 10 percent to 15 percent of adjusted gross income and helps farmers and ranchers through a new special rule for valuing food inventory.
• The enhanced tax deduction for conservation easement donations has helped America's land trusts work with farmers, ranchers, and other modest-income landowners to increase voluntary land conservation by a third, to over a million acres a year when the tax incentive is in effect.
• The IRA charitable rollover option, which allows individual taxpayers aged 70½ and older to donate up to $100,000 from their individual retirement accounts (IRAs) directly to charitable nonprofits, has provided needed support for the work of social service programs, religious organizations, arts and cultural institutions, schools, healthcare providers, and other charitable organizations — all of which benefit Americans across the country.
Funding
for
National
Service
increased
for
FY2016
President Obama signed the fiscal year 2016 omnibus appropriations bill that increases funding for the Corporation for National and Community Service (CNCS). The legislation provides $1.1 billion for CNCS and our programs, a $39.9 million increase over last year. The budget invests in CNCS programs that engage millions of Americans in building community solutions to our most pressing challenges. It provides a substantial increase for AmeriCorps, maintains current funding for Senior Corps, and continues the vital work of the Social Innovation Fund to support creative, proven solutions to pressing challenges. This budget will also strengthen our work to expand economic opportunity for more Americans, drive innovation and impact, and grow national service and volunteerism.
Nonprofit
Advocacy
Matters
The National Council of Nonprofits provides MNA's members access to public policy, training, and education resources at the national level
Nonprofit Advocacy Matters is a bi-weekly newsletter on policy issues affecting the nonprofit sector.
Click here to access the most recent issue of Nonprofit Advocacy Matters.
Department
of
Labor
Proposed
Overtime
Reforms
and
the
Impact
on
Nonprofits
Proposal implementation barring no changes derived from public comment is July 2016 (there may be a phased-in approach).
Background: Under the Fair Labor Standards Act (FSLA), employees are entitled to wages at or above the federal minimum wage and must be paid time and a half overtime for work after 40 hours in any work week. In enacting the federal wage and hour law, Congress exempted from these standards executive, administrative, and professional employees, and left it up to the Secretary of Labor to define the terms of the exemption. Persons who are properly classified as executive, administrative, or professional employees are considered "exempt employees." All others are "non-exempt" and must be paid at least the minimum wage and overtime after 40 hours worked in a week.